Well I had a GREAT time at my salsa class last night. However, I'm bummed that my camera battery was left home in the charger :( AND my blackberry died :(. Some of the people from the dance studio took pictures though, so maybe we'll pop up o
n the website! I went with a bunch of girls to Zack's Dance Loft. There was a happy hour (which
was key in loosening all of us up!) followed by a one hour salsa class. I had a grey goose a
nd soda with a splash of cranberry (my standard cocktail). It was VERY strong, so I sipped it. Then the fun began. We learned a whole routine. What a workout! I was

sweating

for sure. I w
as definitely able to hold my own and really enjoyed learning the routine.

I won't even talk about dinner last night. I ate my hummus wrap
kind of late, so I wasn't hungry before leaving around
5:00. Well, once off the train at 6:00,
I
knew my next opportunity for food was going to be far off. I meant to pack a larabar to hold me over, but I forgot. SO, without going into all the gory details, I'll tell you that my "dinner" involved Starbucks...a grande iced soy chai latte and.... a....rainbow....cookie. EEEEEEEk. I know, naughty
. I'm ashamed...not at the fact that I ate the cookie. But at the fact that the cookie was my "dinner." Oh well, mistakes happen!

In other meal news...

Needless to say, I woke up HUNGRY and it is very HUMID and HOT. So I had some cold cereal.

My cold little bowl included:
about 1 cup of Kashi Heart 2 Heart

1/4 cup Nature's Path Vanilla Almond Flax granola

1 sliced banana

1/4 cup of blueberries

a couple glugs of unsweetened vanilla Almond Breeze
I also had a tall glass of cold water and my two favorie supplements: multi-vitamin and grapeseed extract. And
a cup of tea.

Today's tea was Stash Moroccan
Mint Green Tea. And there's my Krups electric kettle in the backgroud...how I love thee.

I have a wedding to go to tonight, so I have to squeeze in lunch, a manicure, and a workout before the ceremony at 3:00! Until later!

Oops, one more thing. I'm drooling over this prize at OhSheGlows...Angela is having a great contest to end her Summer Glow Boot Camp
! Check it out!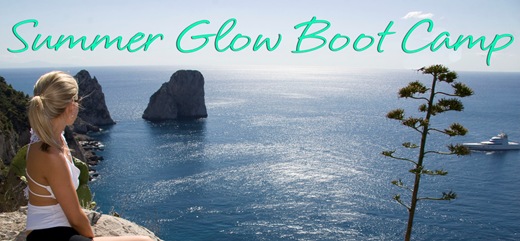 I really enjoyed doing the Summer Glow Boot Camp and am very thankful to Angela for being such an inspiration!